22-11-2017
DR Online in evidence in the study by Nova University
Assessed the impact of 13 Simplex measures on companies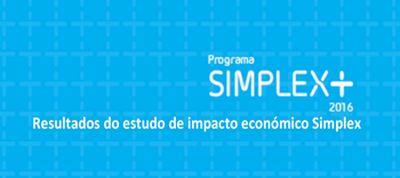 Assessed the impact of 13 Simplex measures on companies
Within the scope of the Economic Impact Study of Simplex 2016, carried out by Nova University from Lisbon, the impact on companies of 13 Simplex measures [in 2016] was evaluated, which concluded as follows:
There is savings for companies of €624 million per year;

Reduction of 490,000 hours of work in public administration;

Impact of €1,000 million on the national economy.
The interactive Declaration of Remunerations for Social Security, in particular the process of rejecting DR's in error, is one of the measures that was part of this study, presenting very significant values:

Companies: Savings of €259.8m in administrative costs;

Public Administration: Savings of 424,298 hours of work;

Economic impact: 383.4 M€​.
In the set of measures under analysis, companies' savings through the Remuneration Declaration corresponded to 61% of the total estimated savings per year, which reveals the importance of this measure in the business context.

Details of the study can be consulted on the government's website. (https://www.portugal.gov.pt/pt/gc21/comunicacao/noticia?i=avaliado-o-impacto-do-simplex-2016)


This study carried out by the Academy confirms the strategy being pursued in the construction of the social security information system, based on PTSS - Vision 2.0, which is simpler and facilitates the relationship with citizens and companies.​