23-11-2020
Institute of Informatics and Institute of Social Security distinguished by IPPS-ISCTE
With the award for best public policy in the category of Central Administration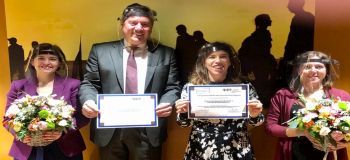 On 20 November, the IPPS-ISCTE Public Policies 2020 Award Ceremony took place virtually.


This Prize aims to recognize the most relevant public policies adopted in the last year in Portugal, namely those aimed at combating the COVID-19 pandemic and its social, economic, educational and cultural effects.


The ceremony of the second edition of the award, to which 75 public policies competed, 41 promoted by the Local Administration and 34 by the Central Administration, was attended by the Minister of Health, Dr. Marta Temido, and the Dean of ISCTE, Prof. Maria de Lourdes Rodrigues.


It was with honor and pride that the Instituto de Informática and the Instituto de Segurança Social were recognized for their practice, presented at the session by the President of the II CD, Paula Salgado, and by the Member of the ISS CD, Ana Vasques, based on the measure Exceptional and temporary protection of jobs - Simplified Layoff, within the scope of the COVID-19 Pandemic.

Finally, we would like to offer special thanks to all those involved in the development and implementation of this measure, which helped to contain an increase in unemployment in Portugal.