01-01-2021
Institute of Informatics, IP receives Honorable Mention
With Social Security App + Next & Mobile Framework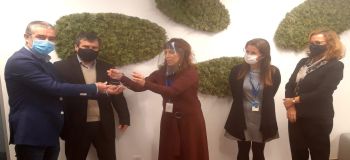 On November 11th, the award ceremony of the 2020 Opening Award took place, an annual award that aims to distinguish entities that contribute to the promotion of Open Source software and Open Technologies in Portugal.

The Instituto de Informática was awarded an honorable mention, an award received by the President of the CD, Paula Salgado.

The Vice President, Carla da Costa Coelho, the Director of the Department of Architecture and Development, Paulo Antunes and the Coordinator of the Development Area, Ana Ribeiro Cruz, accompanied the award ceremony.

This distinction is awarded to the App Social Security + Proxima & Framework Mobile, available on Android and iOS, with more than 125,000 installations in 6 months, and which allows Citizens and Companies to access various Social Security services. This application was developed on FRAM - Framework Mobile.

The framework and its development processes are fully implemented in open source software and use several technologies, such as Angular, ionic, Java, Glassfish, Jenkins, Maven and Cordova.