23-07-2019
Instituto de Informática is the big winner of the Innovative Projects in Public Management Award
In the category Valorization of human resources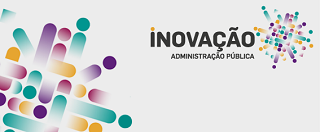 As part of an application submitted in December 2018, the Instituto de Informática, I.P. was the big winner of the Award for Innovative Projects in Public Management in the category of Valorization of Human Resources.
The award ceremony took place on July 19 at the Capitólio Cineteatro, where the II was represented by Carla da Costa Coelho (CD Member), António Adriano de Almeida (DOGP), Hugo Teixeira (DGC/AP), Patrícia Jesus (AACDCS), Carlos Santos (DAU/API), Ana Póvoa (DGC/AP) and was attended by the Minister of the Presidency and Administrative Modernization, Mariana Vieira da Silva, the Secretary of State for Administration and Public Employment , Maria de Fátima Fonseca, Assistant Secretary of State and Administrative Modernization, Luís Goes Pinheiro, as well as all the organizations that submitted applications to the Incentive System for Innovation in Public Management (SIIGeP).
The SIIGeP is an initiative of the Presidency and Administrative Modernization and the Ministry of Finance, approved by Ordinance No. 186/2018, of June 27, consisting of a set of incentives that aim to pursue innovation goals in the enhancement of human resources, in the improvement of work environment and in the development of management models.


​This Award recognizes projects that encourage lifelong learning, employee motivation, the development of a proactive and creative organizational culture, the development of management methodologies and knowledge transfer or the implementation of forms of recognition of the merit of employees.


​The candidacy we presented, and which was evaluated by the jury, is called II.Colabora and focused on the implementation of participatory/collaborative initiatives for valuing people supported by electronic platforms.


The PAI – Reception and Integration Program, the Employees of the Year Award, the Project of the Year Award and the OPii - Participatory Budget were an integral part of this project.


The team responsible for the application and manager of this project was composed of the Vice-President of the Board of Directors, João Sequeira, Alexandra Andrade (AGP), Diana Guerreiro (AGP), Beatriz Gama Lobo (ACS), Sofia Branco (ACS), Joana Vallera (DGC), Hugo Teixeira (DGC/AP) and Carlos Santos (DAU/API).


​The main purpose of this candidacy focused on valuing the people who every day put their work, commitment and dedication to the service of the II's mission and objectives, seeking to mitigate the effects of legal and budgetary limitations on valuing people, and to maintain a high level of satisfaction and motivation in the workplace. The development of the 4 initiatives included in this project, although covering different dimensions, coincide with the objective of making the valorization of human capital more central.
This important award once again recognizes the II's continuous and persistent commitment to innovative initiatives that contribute to the enhancement of human resources.