23-07-2019
Instituto de Informática receives Co-Innovation Award 2019
"Excellence in People Management" - for the new Training Portal project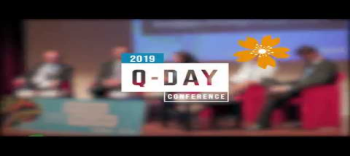 It was at the Q-Day Conference 2019, in a ceremony that took place on September 18 at Culturgest, that the Instituto de Informática was distinguished with the Quidgest Award "Excellence in People Management", thus recognizing the project of the new Training Portal.


The Institute was represented by the Vice-President of the Board of Directors, João Sequeira, who received the award, the Director of the Customer Management Department, Joana Vallêra and the Coordinator of the Product Area, Hugo Teixeira.


The new Training Portal will support the provision of Training services that the Institute makes available to its Partners and will be used by trainees, partner entities and the Training team (Product Area of ​​the Customer Management Department), through specific accesses.


This training management system will allow the aggregation of all information regarding actions, courses, trainees, trainers and entities, providing management support information.


The solution was developed by Quidgest, but adapted to the reality of the Institute's Training services, and the activities relating to the final stage are currently taking place, which precedes the start of use of the new Training Portal.